Packaged of meat products shall be content dehumidifiers
One of the main important issues related to the packaging of food, especially fruits, meat and processed food, using dehumidifiers (silica gel) is suitable. Use 1-gram packages dehumidifiers (Silica) not only increases the shelf life of the food product, but also prevents it from spoilage. Meat or meat products due to how the process of processing and packaging, are most vulnerable to infection and absorption of oxygen, which in turn leads to the corruption of these products is expedite. United States of America in accordance with the Food and Drug Administration approved the use of air dehumidifiers in paper packaging meat and mushroom growth of harmful microorganisms and thus they prevent early spoilage. air dehumidifiers oxygen surface inside the package to zero, the hypoxia caused the meat to stay fresh. The beef is fresh meat Drinkers for and thus for growers, provides a longer shelf life.
Use 1-gram packages dehumidifiers (silica) caused the following:
- stop the growth spoilage microorganisms and pathogenic factors anaerobes
- No need for additives such as sulfur dioxide, BHT, BHA,
- Reduce the need for maintenance
- Prevents changing the color of of meat
- Prevent rancidity and destruction of unsaturated oils and fats
- Prevent oxidation condiments and Herbs spices
- Prevent oxidation of vitamin C, E and A
- Prevent the growth of mold on cheese and dairy products
Full absorption of oxygen when the food storage for a long time vary low water, packages of 1 g dehumidifiers (silica) for storing and packaging food, especially beef is a very important factor. air dehumidifiers, along with iron powder in small packages produced. This material allowing the packaging to oxygen and moisture, but the package prevents rusting iron. Use 1-gram packages dehumidifiers (silica) in packs of beef that prevents from the corruption.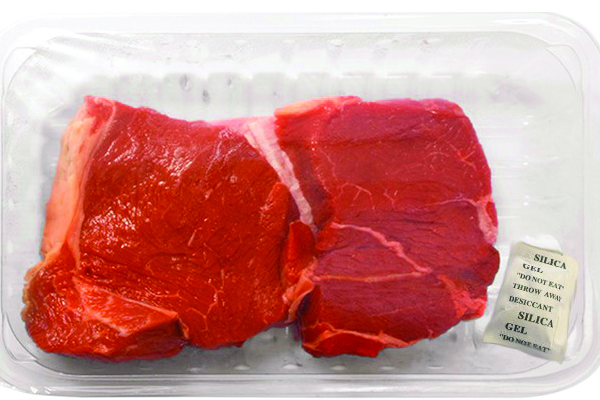 The main cause is corruption and deterioration of food oxidation. The oxidation can be a sign of mold growth, discoloration and swelling following packing cited. Oxygen not only for human survival, but for the life most harmful microorganisms and is also very important. Therefore, the oxygen inside the packaging of food leads to loss of quality and value of the product. Thus, it is important to eliminate oxygen inside the packaging to protect the contents of the package as well as increased long shelf life and product quality.